Inspirations to Make the Back Garden Look Beautiful
One part of the house that you cannot forget and means is the garden of the house. Both for the front garden and back garden. You can use this home garden as a green area and also as a gathering and playing area for your family. Its location outside certainly makes the outside or outside of your home more attractive to look at.
If you don't have an idea for a home garden design, you can try to take a look at some of the ideas that we have that you can definitely apply to your home garden design.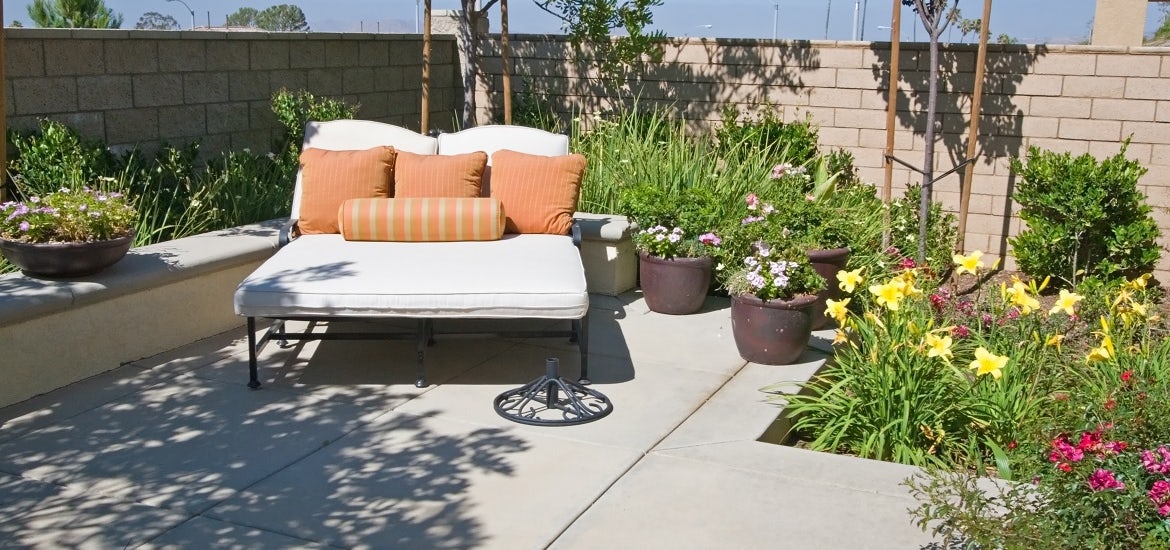 Good Lighting for Home Garden
What is called a home garden does not always have to have a lot of plants, if you like a minimalist one, then this home garden design will be right for you. By only placing 3 plants on the edge, it will make your home garden attractive, you can apply this to your front garden or backyard garden.
But there is one thing that you must pay close attention to is the setting of light rays that can make the atmosphere of your home garden more dramatic, for example using indirect lighting from the bottom of your home garden. If you are someone who doesn't like grass or soil, you can use ceramic or natural stone floors as a base for your home garden and you can also save some sofas to relax here.
Terrace as an Alternative Style for Home Gardens
The inspiration is from rice fields in Bali that use a uniform system. If in Bali you can why not apply it to your home garden. The condition is that the ground surface of your house must be larger than the street. In each of the levels you can fill with various types of plants with various colors and shapes. Surely your home garden will be very attractive.
As a bonus, you can place a lawn lamp in the center or the edge, not only for clear lighting, it can increase the attractiveness of your home garden makeup. And you can also add a yard bench in the corner of the garden to enjoy the beauty of your home garden.
Unique and Interesting Home Garden with Mini Cactus
The next concept is with a pot filled with cactus. For those of you who like cactus plants, this concept is very suitable for you. This cactus will be combined with the monochrome color of the pots that will be the container.
It is advisable to use white combined with other furniture that has a firm line. Want to be very charming your home garden design. One more suggestion, use a pot that is not too big so it will fit perfectly with the mini cactus being planted.
Minimalist Home Garden with Tiled Grass
If before, it was more accentuated with plants with a tiled garden, this time it was a little different because what made the decorations was grass. Not just ordinary grass but a patch of grass that must have looked charming.
But to make it even more beautiful, you can be creative by using ceramics as the grass plots. As a bonus, you can place bushes in some corners. Looks fresh, charming and refreshing doesn't it?
Home Garden as a Place of Relaxation After Work
If previously various concepts seemed to just place a bench or seat as a sweetener, this time the seat is the main star. The seat will be located in the middle of your home garden with a sweetener in the form of a row of bushes around it.
Not only that, you can also make a garden room as a vertical page. You should really relax yourself when you are tired after work or traveling.
Spacious Minimalist Home Garden
Another concept that can be applied is to leave your home garden wide without any makeup. Just a path in the middle of the garden, does not mean losing inspiration.
With the spaciousness of your home garden, you can freely express yourself by doing other things such as playing freely without the presence of plants that can interfere with the child's freedom to play. They can play ball, play bicycles, build tents, play chase they can live.
Home garden design equipped with a fish pond
A fish pond can be one of the makeups that will make your home garden beautiful, especially for a backyard garden. Like the aquarium in the house, the arrival of a fish pond in the garden of the house can mean a lot more for the owner of the house or guests who are visiting.
Small Elongated Home Garden Design
Just having a small garden is not a problem, you can make minimalist makeup such as small pots, minimalist grass that can be passed with mini stepping stones.
If it's adequate, even if it's only a little space, put a minimalist bench for you to sit back and enjoy the garden of your minimalist home. Even though it is very small and elongated, it can always be made as attractive as possible.
Those were some of the ideas that you can use as inspiration to make your home garden more attractive for a family gathering or playing place. The designation of your home garden as one of the significant elements of the house by designing it well. You can create thousands of other design inspirations and reliable interior designs.